Client Feedback
"Information about some clients of the NonProfit Consulting Group and what they think of the services they deliver and the Managing Members"
A Partial List of Our Clients. . .
Professional Association of Senior Referral Specialists (PASRS)
Interfaith Cooperative Ministry Food and Clothing Bank (ICM) (project for Former President and Board Member)
Kenilworth Foundation
The Community Of Care Project
Maricopa County Oral Health Leaders and Advocates (MOLAR)
Arizona Caregiver Coalition
Bucket List Foundation
The Center for Early Childhood Creativity and Innovation at The Walt Disney Birthplace
Life Care Planning Law Firms Association
California Oral Health Care Coalition
Nuclear Human Resources Group
National Post-Acute Care Continuum (NPACCC)
JC Supercars
Artsy Smartsy (Art classes for Seniors)
ALS Connections
National Placement and Referral Alliance (NPRA Main Office)
National Placement and Referral Alliance Chapters in Phoenix, San Diego, Denver, Tucson, Dallas-Fort Worth, Orange County, CA
High Fives Charity, Inc.
Adolescents Liberating The Future, Inc.
Client Feedback
Our appreciation and most sincere thanks go out to our clients who share their thoughts and experiences about working with NPCG on these pages.  We hope you will join them soon with your stories!
As the Founder and President of Bucket List Foundation, we retained NPCG services to assist us in restructuring our bylaws and fulfill our first organization meeting so that we were adequately positioned to increase our Board of Directors and provide further business structure to our foundation. Additionally, NPCG went above and beyond and helped us construct volunteer requirements and structure.
We are so grateful to NPCG for the services they provided. David, Don and Patrick are incredibly passionate about helping others achieve their business goals. Having worked with them individually, they each bring a unique expertise and together, they create an incredible dynamic. Their combined knowledge in the senior workspace and non-profit world is incredible which allows them to provide incredible value. Their #1 goal is to help represent your business the way you want within the legal and ethical confines of business. Their responses were timely and efficient. Their prices were reasonable and well worth it. I have and will continue to highly recommend NPCG to any non-profit needing any and all business consultation. Thank you, NPCG!
Kimberly Dawn Iverson, RN | Founder & CEO | Bucket List Foundation
"Granting Wishes to Terminally Ill Seniors"
Hi NPCG
I don't know if I have had a more varied relationship with you than anyone else has but I am betting I have! So I am in a good position to offer my impressions.
Prior to the formation of NPCG, I have had the pleasure to know each of you individually and of your contributions to the eldercare industry. Your reputations made working with your group a "no brainer"!
I probably have put your abilities through tests that you may not ever have the displeasure of experiencing again! Your expertise and calm personalities were invaluable with helping to mediate a very volatile situation with an association I was involved with. Your insight and advice helped us to successfully navigate some turbulent waters!
Now, the Maricopa County Oral Health Leaders, Advocates, and Resources Coalition is benefiting from your expertise during our process of becoming a 501c3 organization. A lot of very time consuming functions have been efficiently and professionally handled by NPCG, from the initial consultation, official filing, writing of by laws, to our present status. We have the organizational meeting scheduled for early February and we will be complete. However, we won't be finished with NPCG! I anticipate that your consulting will be utilized on an ongoing basis to help us when we need.
We appreciate the knowledge and experience that NPCG makes available, and I would highly recommend them for any of your needs. Whether you are starting, ending, considering, or just curious about the way non profits work - give them a call! Because of their vast experience, I even use them for advice about other non related matters!
Thank you Don, Patrick and David.
Steve Laughary
CEO Desired Resources
Mobile Healthcare Services
My association with the Non Profit Consulting Group has been the single most valuable resource I have in my toolbox. As the president of the Human Service Professionals Association we hired them to assist us in getting our non-profit back on track after the original by-laws were no longer effective or appropriate for our needs. They provided a solid plan to work with at a very reasonable cost. I recommend their services to anyone - non-profit, for-profit, business owner or employee. Their willingness to help anyone in any stage of business is one of their best features and one I've benefitted from both professionally and personally.
Deborah White
Owner, Senior Service Content
President, Human Service Professionals Association
Non Profit Consulting Group helped our agency tremendously. Don, Patrick and David were EXTREMELY generous with their time, patience and sound advice. Their combined knowledge and experience in the consulting field is to be admired. They listened carefully to our needs and were diligent with their timely response. I would not hesitate to recommend their highly professional services.
Jill Garcia
Board Member
ICM Food and Clothing Bank
I am completely satisfied with my experience with the Non-Profit Consulting Group. I found them to be very professional and caring; and willing to go above and beyond in pursuit of a good outcome. It is my pleasure to recommend them to any group, whether just getting started or facing issues of any sort.
Ken Denton, CSA
Certified Senior Advisor
I don't know where the Professional Association of Senior Referral Specialists (PASRS) would be if it hadn't been for the tireless efforts of the NonProfit Consulting Group. They valiantly came to our aid a year ago.
While we had the best of intentions to gather together to form a new association for our industry, we were like a bunch of rag tag individuals, not quite sure if we were steering this vessel on course. Enter NonProfit Consulting Group. They helped us organize, and see the much larger (and legal) picture of what our attempts were only meagerly accomplishing. It's the difference in one doing their own taxes or hiring a professional. We were able to sit back, breathe a little easier, and know that we were in good, and competent, hands.
When one is busy doing the day to day responsibilities of running their own business, it can be overwhelming to take on a commitment to volunteer for a new, and time consuming project. But the individuals who formed PASRS saw the vision, mission, and value of its creation so vital to the validity and reputation of this unregulated industry called "senior placement" that they plunged in. And, as with anything we volunteer for that has meaning in our lives, the volunteering part sometimes can become very time consuming. NonProfit Consulting Group was able to cut through all our initial paperwork and allow us to keep the good and replace the "not so good".
I would highly recommend this organization to help you, and yours, get things done efficiently and correctly.
Sincerely,
Rita McBride
Board of Directors (Secretary) PASRS
Owner/Founder, A Better Solution for Senior Living, LLC
As the former contract board administrator for the Arizona Assisted Living Homes Association, I asked the Non-Profit Consulting Group to assist the association in their desire to implement better policies and practices. I was, and continue to be, very impressed with the knowledge and expertise the three gentlemen of NPCG principals. Anyone considering starting a non-profit, or to improve their current non-profit, would definitely benefit from working with NPCG
Linda Thompson
Life Path Solutions, Inc.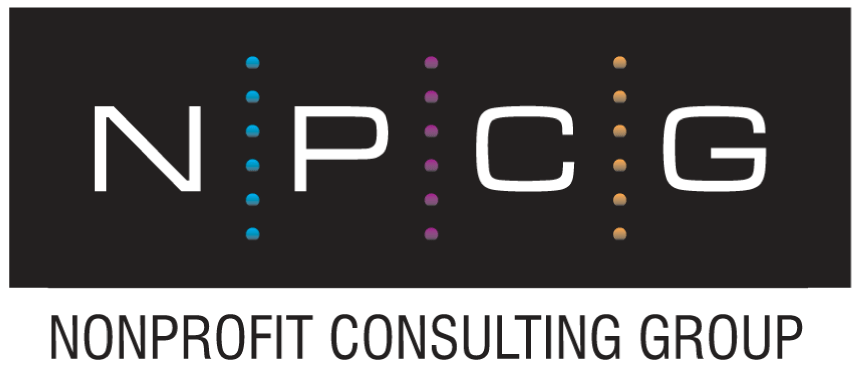 Strategic Partners for Change, Vision, and Sustainability